Author: Wendy Wintersgill, MSN, RN, CRRN, ONC, ACNS-BC
Tips for assessing patient mobility and using gait belts
All nurses want to keep their patients safe, but falls and injuries when moving patients are a common problem. According to the Agency for Healthcare Research and Quality, patient falls occur at a rate of three to five per 1,000 bed-days, 700,000 to 1 million hospitalized patients fall each year, approximately 50% of the 1.6 million U.S. nursing home residents fall every year, and nearly 10% of Medicare skilled nursing facility residents experience a fall resulting in significant injury. Among RNs, overexertion and bodily reaction (the way that the body responds or reacts to an external influence) were the most prevalent events (45.6% of all cases within the profession) that led to occupational injuries and illnesses, according to a 2016 U.S. Bureau of Labor Statistics report.
Gait belts, which typically are used by physical therapists, also can be used by nurses and other properly trained patient caregivers to protect themselves and their patients. (See Gait belt options.)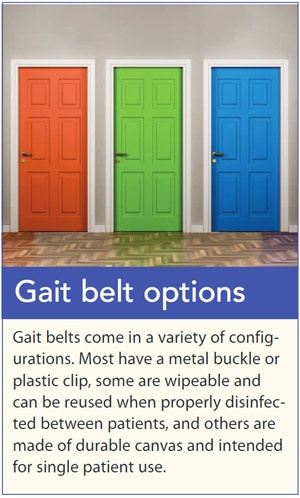 Although no randomized clinical trials have been conducted that prove gait belts reduce falls and injury, it's easy to see how they can help with walking and transferring, providing a valuable prevention strategy. Incorporating gait belts into your practice involves patient assessment, proper application and use of the selected belt, and understanding how the belt can help prevent injury in situations where patients do fall.
Mobility assessment
Before using a gait belt, assess the patient's mobility. You'll want to have a gait belt, a standard walker that's properly adjusted for the patient's height, and a second person to help you.
The assessment includes four elements: cognition, strength, balance, and endurance. (See 4 elements of mobility assessment.) While the patient is in the bed, ask him or her to roll or turn side to side. The patient may or may not use the side rails—either is fine. If the patient's cognition is intact, he or she will perform the task as requested. This exercise assesses bed mobility.
If the patient can turn side to side, ask if he or she can sit up. To assist the patient, elevate the head of the bed. When the patient is seated, observe for trunk stability. If the patient can sit up or is able to sit up while holding the bed rail or self-supporting with arms placed to either side of the body on the mattress, test his or her quadricep strength with straight-leg raises. Ask the patient to hold one leg out straight and count to five. Do the same with the opposite leg.
Perform a mobility assessment the first time a patient is mobilized and then once every 24 hours. Assessments also should be performed after procedures, if the patient's condition changes, and in accordance with state practice requirements. Always mobilize the patient according to the most current assessment, and never use three people to assist; more than two helpers will interfere with a clear path for transferring and walking may place caregivers and patients at risk for injury
Although conducting a mobility assessment may seem time-consuming, it usually takes no more than 10 minutes. Document the assessment results in the electronic health record, and verbally communicate the assistance level (one- or two-person), equipment requirements, and gait belt placement to other members of the patient's healthcare team and at hand-offs. Also communicate the information when the patient leaves the unit (via a "trip ticket" or phone call) and on a whiteboard or similar tool at each point of care. The plan of care for impaired mobility or at risk for falls should include an assessment schedule for mobility or safe mobilization, identify use of the proper number of helpers, level of assistance, and equipment to be used, including the gait belt.
Even if the patient passes the mobility test elements, address any concern that a knee might buckle, the patient could become dizzy, or something could go wrong. If that is the case, a gait belt should be used. In the facility where I work, nurses use a gait belt for any patient who is not independent to promote safety.
Gait belt contraindications
Flail chest or chest trauma that includes multiple rib fractures that separate ribs from the skeletal wall are contraindications to gait belt use. These painful conditions would make proper tightening of the gait belt intolerable. Other contraindications include behavioral aggression (for example, during alcohol withdrawal), where the patient might use the gait belt as a weapon, and patients at risk for suicide who might use the gait belt to harm themselves.
Applying and using the belt
If no contraindications exist, place the gait belt snugly around the patient's waist while he or she is sitting on the edge of the bed. You barely should be able to get your fingers under the belt to provide support. If the patient has a colostomy or percutaneous drain, place the belt higher up, as high as below the axillae. Use your critical-thinking skills to determine the best placement and communicate that information to the care team.
After the belt is properly secured, ensure that the patient's feet are placed flat on the floor (no tiptoes or dangling feet). If your patient is short and unable to reach the floor while sitting on the bed, consider a specialized low bed or a stepstool that offers a wide base of support. Next, place a walker in front of the patient and ask him or her to push up from the bed to stand. Instruct the patient not to reach for the walker or to pull up on it and not to grab or pull on you for support. You also must be passive and not grab the gait belt to pull the patient up to stand. A gait belt is used to steady a patient—it is not a lifting device. You can help the patient by raising or lowering the bed.
When the patient is able to stand for a full minute, ask if he or she feels light-headed or dizzy. If the answer is yes, help the patient to sit back onto the bed. For patients who may be dehydrated or who have blood loss or a suspected bleeding condition, assess orthostatic vital signs when they initially stand. If all is well, test the patient's balance by having him or her step forward and back at least three times. If the patient does well, take a walk with the patient starting with two or three steps; do this at least three times to ensure balance before testing the patient for any endurance.
If hands-on assistance is needed, walk alongside the patient with one hand on the gait belt in front and the other on the belt in the back. If only one hand is needed, hold the belt from the back. Always use an underhand grip on the gait belt; it offers a stronger grip and reduces your risk of injury.
If the patient demonstrates good cognition, strength, and balance, you can relax your position and meet the patient at his or her proper level of assistance—from barely touching (contact guard) up to two-person assistance.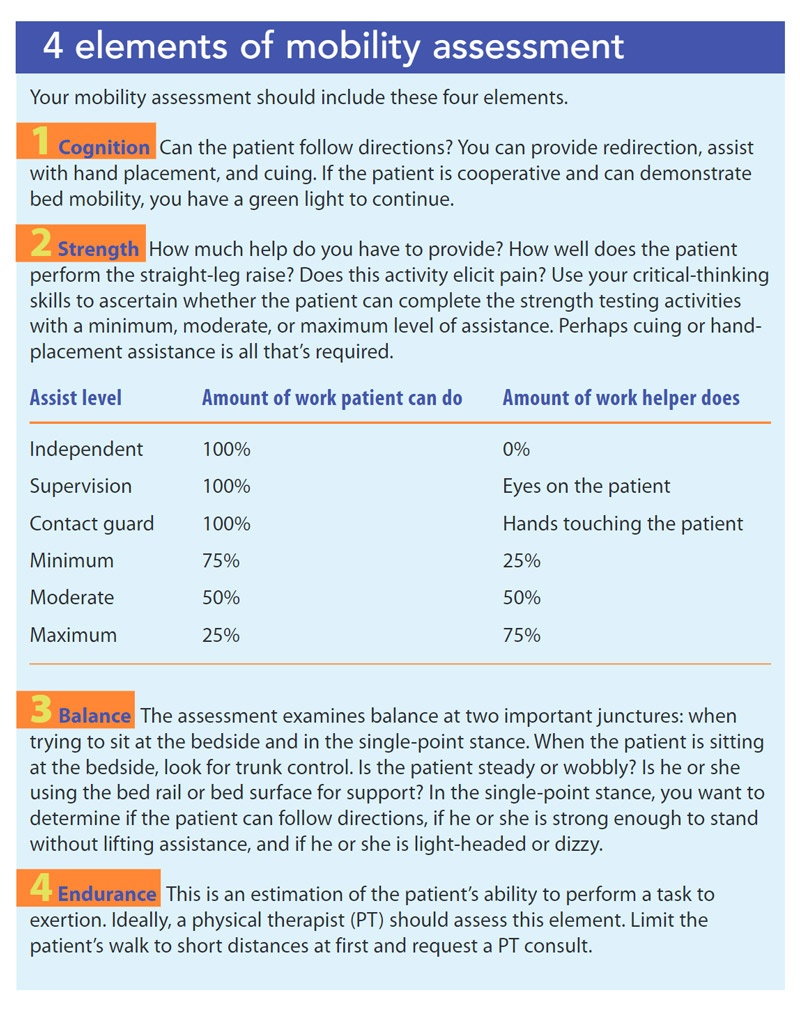 What if the patient falls?
If you're walking with a patient who becomes dizzy or experiences a syncopal event, you may not be able to prevent a fall. But you can help to prevent injury by holding on to the gait belt and guiding the patient to the floor, supporting him or her on your thigh and with your large quadricep muscle as you slow descent to the floor. Go to the floor with the patient in a controlled manner. Be aware that with or without a gait belt, the patient might reflexively grab on to you, even though you have instructed him or her not to.
Tool for safety
Gait belts are inexpensive and effective tools for patient and nurse safety, so be sure to integrate them into your clinical practice. The article on page 35 addresses organizational strategies for gait belt use.
Resource
Gait belts are one option for steadying patients and should never be substituted for lifting devices. For more information about safe patient handling, visit the Handle with care section of the American Nurses Association's website (nursingworld.org/practice-policy/work-environment/ health-safety/handle-with-care).
Wendy Wintersgill is a clinical nurse specialist in the orthopedic service line at Penn Medicine Lancaster General Health in Lancaster, Pennsylvania, and director of the Association of Rehabilitation Nurses.
Selected References
Falls and falls with injury. American Nurses Association. nursingworld.org/practice-policy/advocacy/federal/agencies-regulations/falls
Hoyer EH, Brotman DJ, Chan KS, Needham DM. Barriers to early mobility of hospitalized general medicine patients: Survey development and results. Am J Phys Med Rehabil. 2015;94(4):304-12.
Miller H, Rockefeller K, Townsend P. Inter-national round table discussion: Do gait belts have a role in safe patient handling programs? Int J Safe Patient Handl Mobil. 2017;7(3):116-21.
Occupational injuries and illnesses among registered nurses. Bureau of Labor Statistics. November 2018. www.bls.gov/opub/mlr/ 2018/article/occupational-injuries-and-illness-es-among-registered-nurses.htm
Patient safety primer: Falls. Patient Safety Network. January 2019. psnet.ahrq.gov/primers/primer/40/Falls
Safe patient handling and mobility. Association of Rehabilitation Nurses. February 2018. rehabnurse.org/resources/position-statements/safe-patient-handling